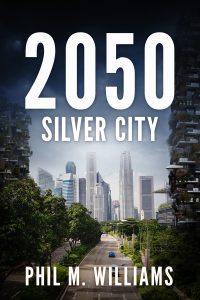 2050: Silver City (Book 3)
Governments around the world continue to dominate their citizens.
Only Silver City stands as a beacon for freedom.
But for how long?
Jacob Roth fills his late brother's shoes as the CEO of Roth Holdings North America. His first goal is to eliminate Silver City, the only place on Earth free of taxes and central banker cryptocurrencies. But the Silver City Militia won't go down without a fight. As the pressure mounts, Jacob's marriage is fraying at the seams. With newfound wealth and power, and a separation from his wife, Jacob has an unusual affair.
Derek rebuilds his life in Silver City, the only safe place for enemies of the state. He works at Freetown Orchard and joins the local militia. He finds love with another man's wife. Not just any man but the wealthiest man in the world, the CEO of Thorium Unlimited, Truman Bradshaw. Derek's unaware of the potential danger until it's too late.
Summer returns to Silver City with her father and infant son. While working at the hospital, she meets and befriends Truman's wife, Kyra. Summer soon learns of their dangerous marital discord. In an effort to avoid the impending war in Silver City, and the long arm of Truman and his men, Summer and Kyra hide out in Costa Rica. But are they really safe?
Naomi continues her quest for the Democratic nomination, battling the front runner, Corrinne Powers. To win, Naomi will have to sell her soul to the men responsible for killing her husband. Can she accomplish the impossible? A presidency beholden only to the American people. Or will she become another bought-and-paid-for president?
This novel contains adult language, content, and sexual situations.
2050: Silver City (Book 3) can be purchased in E-book and paperback here:
Amazon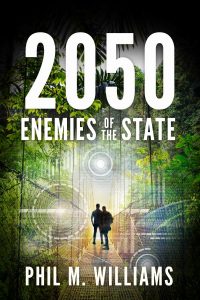 2050: Enemies of the State (Book 4)
After Silver City's stunning victory over the Panamanian National Police, free communities spread throughout the world, emboldened and no longer asking for freedom. The powers that be demand these communities be eradicated.
With Truman Bradshaw seeking revenge and his men out for blood on his behalf, Derek and Summer are no longer safe in Silver City. They move to Tortí, a small farming town in central Panama, to consult with the locals on transitioning to a stateless society. Derek and Summer are safely hidden from Truman's men, but the couple are out of the frying pan and into the fire, as they fight the corrupt local police.
Jacob Roth relishes his new role as the head of Roth Holdings North America. With control over the media, markets, governments, and the worldwide cryptocurrency, he has more power and wealth than nearly every person on the planet. Despite his wealth and power, his marriage is failing, and his enhanced eldest son might be a psychopath. To escape his familial problems and his father's eternal disapproval, Jacob grows closer to his robotic mistress. Maybe he can buy love.
Socialist Naomi Sutton campaigns for the US presidency against the Republican incumbent, Clayton Warner. The old Republican has a few tricks left, but Americans are hungry for change and are finally ready for a socialist government. Naomi's poised to win the election. But with the promises she has made to get here, will it be a booby prize?
2050: Enemies of the State (Book 4) can be preordered here:
Amazon
 I am a participant in the Amazon Services LLC Associates Program, an affiliate advertising program designed to provide a means for me to earn fees by linking to Amazon.com. and affiliated sites. This does NOT affect the price you pay at Amazon or your shopping experience.