(Sale 10-15 through 10-19-2023)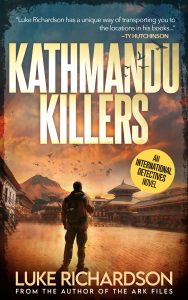 4.0 – 1317 Reviews
Promo Price: FREE!
Regular Price: 2.99
Amazon Store Availability: Everywhere
Content Rating : PG-13
You visit a restaurant in a far-away city, only to find you're on the menu. Beneath the tranquil façade of Kathmandu lurks a dark and twisted underworld, and when Leo sets foot in this city, he unwittingly becomes a pawn in a deadly game. A compulsive international detective story.
Amazon
New Release
Promo Price: 2.99
Regular Price: 9.99
Amazon Store Availability: US & UK
Content Rating : PG-13
They took her freedom and her liberty. They should have taken her life.
ALEXANDRIA RIDLEY… TURNING JUSTICE INTO A MASTERPIECE!
From Amazon bestseller Steven Moore, this boxset featuring Alexandria Ridley offers 1,300 + pages of relentless, blood-pumping action, including book 1 I, Vigilante, book 2, I, Guardian, book 3, I, Salvation, + bonus prequel novella, I, Survivor.
Amazon
Content Ratings:
Mature= Anything goes | R= Language and violence, no graphic sex | PG-13= Mild language and violence | Cozy= Clean
I am a participant in the Amazon Services LLC Associates Program, an affiliate advertising program designed to provide a means for me to earn fees by linking to Amazon.com. and affiliated sites. This does NOT affect the price you pay at Amazon or your shopping experience.