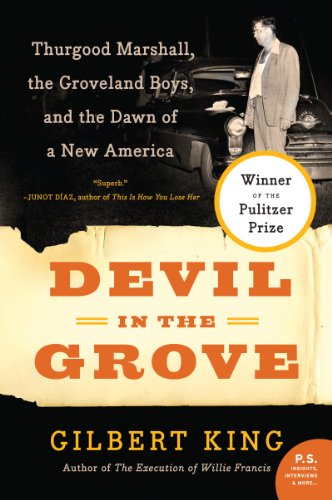 I recently read Devil in the Grove by Gilbert King, a winner of the Pulitzer Prize for nonfiction. It's the true story of four black men from Groveland, Florida who were accused of raping a white woman.
This story is heartbreaking and shocking. King certainly did his homework, as the author provides a very detailed account of post-WWII Groveland, Florida, a state where black people were lynched at arguably the highest rate per capita, and the dangerous struggle for justice by Thurgood Marshall and many other lawyers and advocates.
I won't go into detail, but I highly recommend picking up a copy of Devil in the Grove. I have no affiliation with the author, although I wish I did. One thing I will say about Thurgood Marshall. When he was on the supreme court, he voted in favor of a KKK leader's right to free speech. Marshall was a Constitutionalist who protected free speech, even for people he strongly disagreed with. To me that spoke volumes about his character.