Click the link below to download free five star thriller novels. For a limited time only.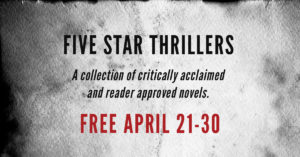 One of the biggest problems I have as a reader isn't the availability of novels or the even the price. My biggest problem is sifting through the millions of books to find something good. I cajoled, begged, and scoured the internet for free thriller novels with an impeccable reader approved rating of 4.5 or higher on Amazon with at least 40 reviews.
It wasn't easy, but I found twelve fantastic novels and they're free between
April 21st through April 30th
. They do require that you opt in to the author's email list. You can always unsubscribe, but you might find that you enjoy the author's emails. I've downloaded all of the books and I plan to hang around for the emails as well. I haven't read the books yet, but they look great. I hope you'll give them a try.
Click the link below to browse the novels.