This is the best collection of free books I've ever seen.
That was a bit of praise I heard last April. The Five Star Thrillers are back for August with higher standards and new blood.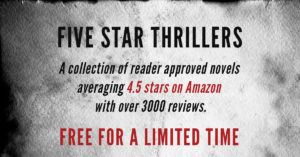 One of the biggest problems I have as a reader isn't the availability of novels or the even the price. My biggest problem is sifting through the millions of books to find something good. This month I have something very special to share with you. I cajoled, begged, and scoured the internet for fantastic free thriller novels. Collectively, these thirteen novels have an average Amazon rating of 4.5 with over 3000 reviews.
These novels are free between August 6th through August 20th. Most require that you opt in to the author's email list. You can always unsubscribe, but you might find that you enjoy the author's emails. I've downloaded, read, and enjoyed most of the novels and the email newsletters. These authors are great writers and great people. I hope you'll give them a try.
Click the link below to browse the free novels.