Podcast: Play in new window | Download (Duration: 40:59 — 44.0MB) | Embed
Subscribe: Apple Podcasts | Google Podcasts | Spotify | Stitcher | Email | TuneIn | | More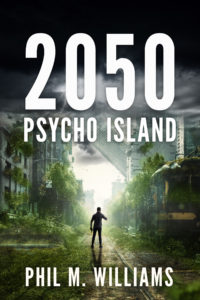 Join Denise and I as we discuss my latest release, 2050: Psycho Island (Book 1). We cover the following topics:
-What will life be like in 2050? We discuss future events in the novel that are likely to happen IRL. Ones that are unlikely to happen. And even ones that are already happening.
-The nuts and bolts behind the complex plotting of the 2050 series.
-Characters and the secrets behind my character profiles.
-We mostly avoid it, but we do briefly talk about the cerveza sickness. (credit to George Gammon)
-We read chapter 2 of the novel, complete with terrible acting!
You can find 2050 Psycho Island (Book 1) here: https://geni.us/2050PsychoIsland